Risk Management and Response Measures
Trend Analysis and Countermeasures
In consideration of the changes in the global environment and industry every year, Inventec's governance unit, the Board of Directors, relevant committees and management units in accordance with the seven major management areas including "strategic risk", "operational risk", "financial risk", "regulatory compliance and intellectual property risk", "product safety risk", "environmental risk", "information security risk", and "occupational safety risk", carry out major risk identification and risk assessment analysis, formulate timely response strategies, and strengthen contingency mechanisms to effectively reduce risks, improve company competitiveness, and achieve the goal of sustainable operation.
1)Favorable factors Read more
Based on the good foundation of an existing all-around product line, in addition to continuing to consolidate the notebook computer and server product fields, the Group is also gradually expanding to relevant fields such as peripheral software products, electronic information products, etc. with higher added value.

The cloud computing industry and big data are both growing rapidly. In the future, the cloud application business opportunities are infinite. The Group has been the industry leader in the aspect of server OEM; through existing hardware technology and application software development, we can take our place in the cloud computing industry.

With the advent of the 5G era, 5G smart manufacturing is expected to provide faster and more flexible production capacity for the production line, which is a key business opportunity for the manufacturing industry to actively deploy. The Group continued to expand its resources, actively develop 5G private network system integration and architecture capabilities, and successfully transformed its manufacturing factory into a 5G smart factory. By combining Industry 4.0 and 5G applications, we will move towards building a global smart manufacturing factory.

In addition to strengthening the status of global manufacturing, research and development, and the logistics center, the Group is also actively utilizing production advantages and research and development factors in the Greater China economic circle in order to construct a real time co-working platform with high efficiency and a market feedback mechanism, and together with the setup of a research and development innovation center, we will enhance technology and product design innovation capability.
2)Unfavorable factors Read more
Solution: The Group will formulate a relevant operation risk management mechanism to consider various operation strategies as relevant solutions; in addition to coordinating with customers for the research and development of relevant demanded commodities, we are also dedicated to patent and intellectual property innovation in order to strengthen Group resource integration and expand emerging business investments and arrangements to respond to changes in the market.

Solution: In addition to being dedicated to the development of high added value products and all-around products, we also actively improve operation efficiency in such aspects as production, marketing, logistics, etc. to reduce operation costs and improve overall operation efficiency through constructing Enterprise Resource Planning (ERP), Supply Chain Management (SCM), and six sigma improvement strategy.

Solution: The Company has long-term cooperative and strategic ally relationships with major suppliers and has established multiple supply sources for important components to ensure sufficient component supply; we also seek all kinds of approaches to integrate the supply chain and reduce the impact.

Solution: Most of the important components of the Company are purchased and imported overseas and priced with foreign currency, and the sales are mostly priced with foreign currency, which can naturally offset the impact of change of exchange rate on revenue and cost. Furthermore, taking currency hedging measures can help us reasonably avoid exchange rate risk.
Risk management and countermeasures
Read more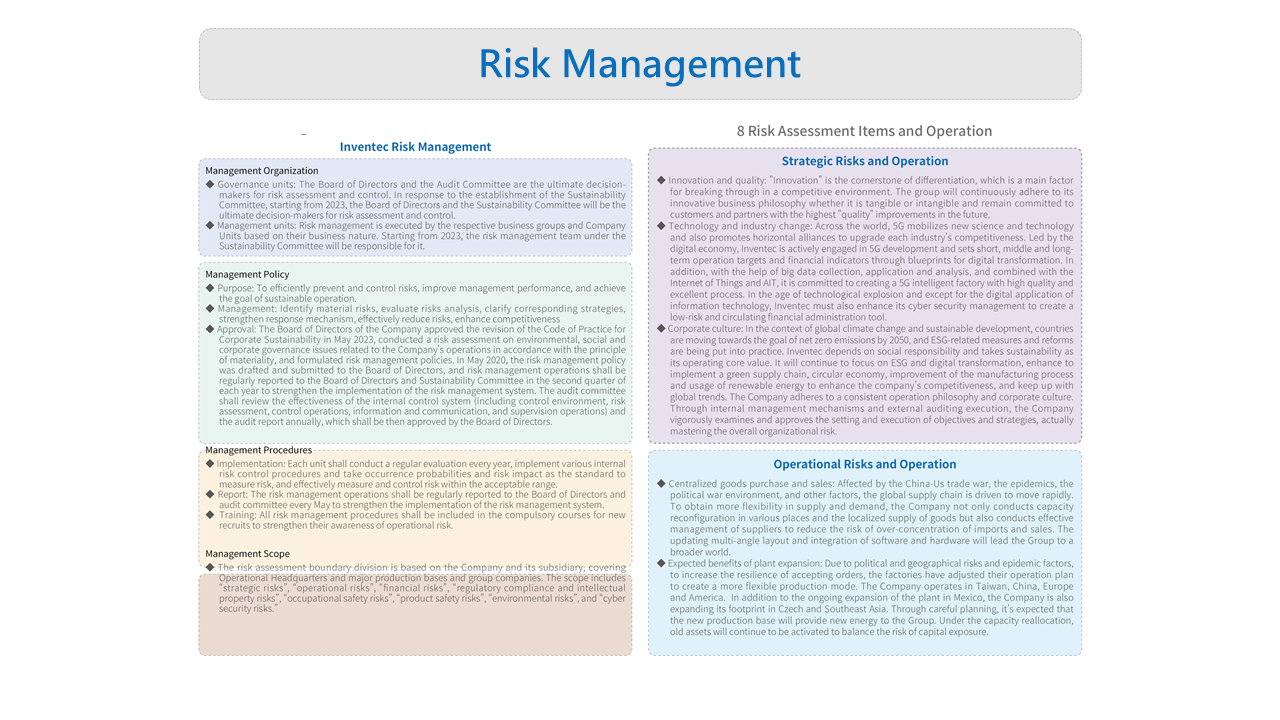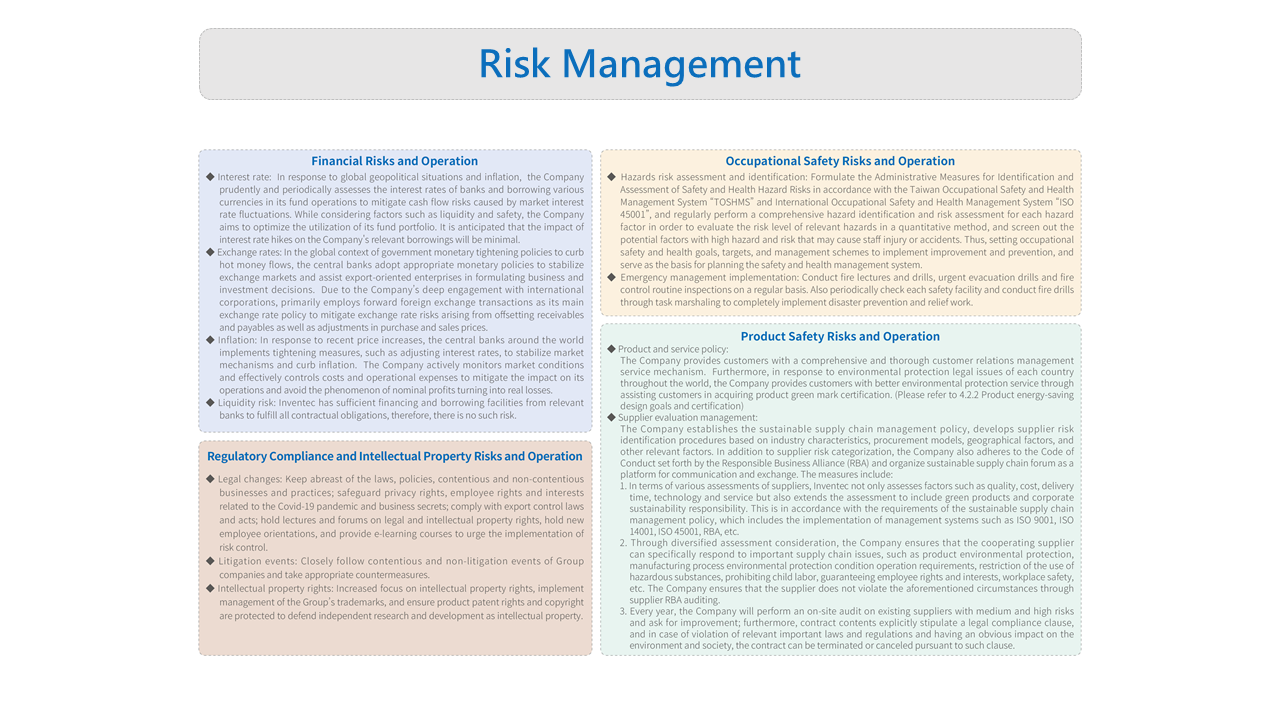 Corporate governance focuses on autonomy and self-examination to achieve the goal of self-discipline through standardization, while sustainable operations emphasize people and the environment to fulfill corporate social responsibility through continuous efforts. Inventec has always adhered to the concept of integrity and sustainable management, encourages colleagues to face these challenges head-on, and join Inventec to enhance strength and sense of identity through the core values of "innovation, quality, open mind and execution" to further increase Inventec's competitiveness. In the future, we need to do "one more responsibility, one more concern". Through the Internet of Things, we can obtain experience and share resources to maximize social responsibility. Inventec adheres to a consistent operation philosophy and corporate culture. Through internal management mechanisms and external auditing execution, Inventec vigorously examines and approves the setting and execution of objectives and strategies, actually mastering the overall organizational risk.
Inventec has also carefully evaluated its plant expansion plan in accordance with the economic environment and market demand, and also disposed of part of the Shanghai Pudong subsidiary plant through the activation of assets in early 2021 to reduce capital exposure risk. With the reallocation of production capacity, a win-win situation will be created.
In the era of Sino-US trade barriers and the post-epidemic situation, the manufacturing industry needs to build a highly resilient supply chain to face the risk of supply chains breaking and strengthen demand forecasts, procurement bargaining and supplier management mechanisms globally. These actions will disperse the risk of product manufacturing, and raw material supply and distribution from regional customer demand. Inventec has already adjusted its production strategy. Whether the purchase of key components or the sale of the whole machine, Inventec strives for diversification in supply and demand. The so-called "serving the hour" will effectively prevent the dilemma caused by the excessive concentration of purchases and sales.
Climate change risk: Following the TCFD climate change governance framework for mitigation and adjustment practices, according to climate action practices, define the risk assessment and identification procedures, policies and regulations, technology, market, goodwill and extreme weather, assess the potential niche opportunities, search for opportunities in new energy resources, markets, products/services, and resource efficiency, developing new businesses and services, and integrate them into Inventec's operating procedures.
In response to the COVID-19 epidemic, adjust production strategies and strengthen business continuity management. Due to the spread and impact of COVID-19, there may be a risk of plant operations being suspended. In order to ensure continuous operation, Inventec has set up an epidemic prevention response team in each plant to formulate epidemic prevention plans, implement epidemic prevention measures, schedule staff epidemic prevention life, deploy the value chain in advance, serve customers without interruption, and ensure continuous operation.